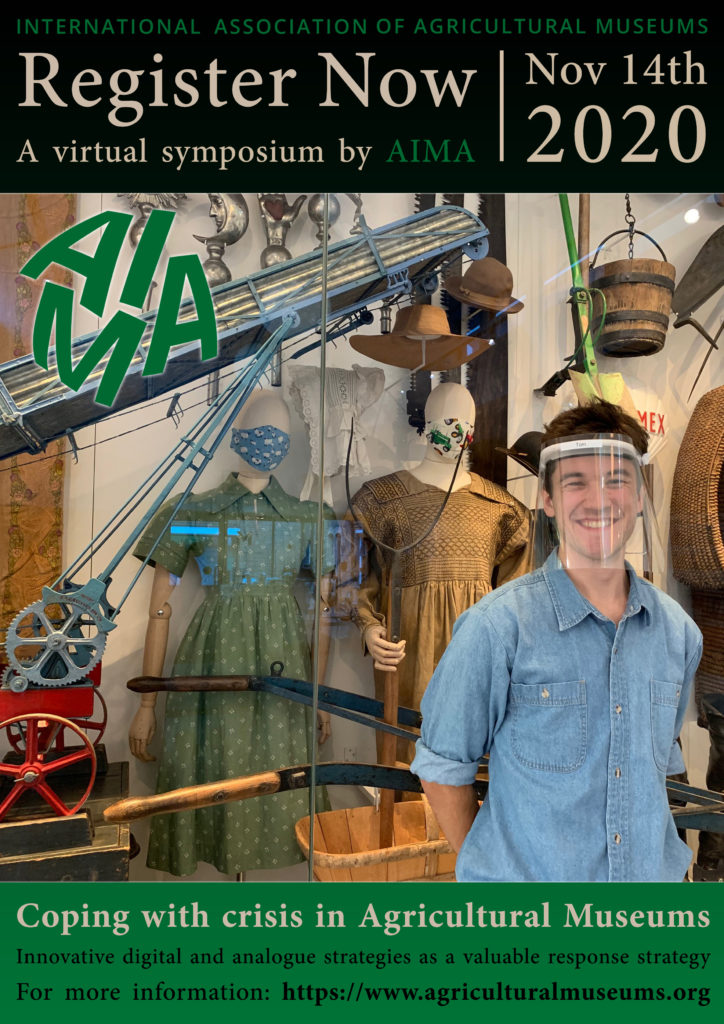 We invite you to join AIMA on Nov 14th 2020 for our first virtual symposium.
As many of our members and we as an organization had to adapt and adjust to the ongoing crisis and its challenges, we would like to share our experiences with a wider public.
Register now:
https://ingeniumcanada.zoom.us/webinar/register/WN_OaBkqCh9ReytGD5MIqwt_A
The conference will feature presentations from all around the globe including a Keynote by Susan Reckseidler (the current President of the Association for Living History, Farm and Agricultural Museums, short ALHFAM) with the title "One Step at a Time: Re-Imagining Re-Opening During Covid-19".
Schedule:
Start of the symposium: 3 PM CET/MEZ
End of the symposium: ca. 7 PM CET/MEZ
Session 1
Introduction

Welcome Address
(Ollie Douglas, President of AIMA)

Introduction and technical information
(Claus Kropp, Lauresham Laboratory for Experimental Archaeology, Germany)
Key note: One Step at a Time: Re-Imagining Re-Opening During Covid-19
(Susan Reckseidler, Heritage Park Historical Village, Canada)
https://youtu.be/zDNZFDvNKGc
Break with Clip (Promovideo of AIMA)
https://youtu.be/mj-5oYNCHfI
Session 2
On-site responses
Share the harvest: One living history farm´s response to C-19
(Pete Watson, Howell Living History Farm, USA)
https://youtu.be/JktoOHgw_eg
Sustaining living "exhibitions" during crisis: C-19 lessons for updating Risk Management Plans
(Kerry-Leigh Burchill, Canada Agriculture and Food Museum, Canada)
https://youtu.be/pCMYOsrxfSE
Online/Offline. The MERL Communicating through the Pandemic
(Isabel Hughes / Ollie Douglas, Museum of English Rural Life, England)
https://youtu.be/wjZXxFvYQ8Q
Break with Clip (Activities of the National Museum of Agriculture in Szreniawa during the SARS-CoV-2 coronavirus pandemic)
https://youtu.be/IugpZQ4uwto
Session 3
Digital pathways
Digital ways of approaching museum audiences during the crisis
(Claus Kropp, Lauresham Laboratory for Experimental Archaeology, Germany)
https://youtu.be/bVD7by-l0io
Celery and Tomatoes: Digital Products based in Agricultural Museum Collections
(Debra Reid, The Henry Ford, USA)
https://youtu.be/0HdK89goaSE
Break with Clip (Slideshow of AIMA Members)
Session 4
Widening the scope
Deep networking as a chance
(Cozette Griffin-Kremer, CRBC Brest, France)
https://youtu.be/J9UGv6Bz7gU
Harvesting memories on the Farm. Oral Histories of African American Farm Owners
(Adrienne Petty, College of William & Mary, USA / Mark Schultz, Lewis University, USA)
https://youtu.be/Nm-eIV_rvPU

Indian Agriculture coping with the C-19 crisis
https://youtu.be/LLWmPbIMHas
Concluding Remarks
(Kerry-Leigh Burchill, Canada Agriculture and Food Museum, Canada )
Preview CIMA 2021 at the MERL in Reading, England
(Ollie Douglas, President of AIMA)