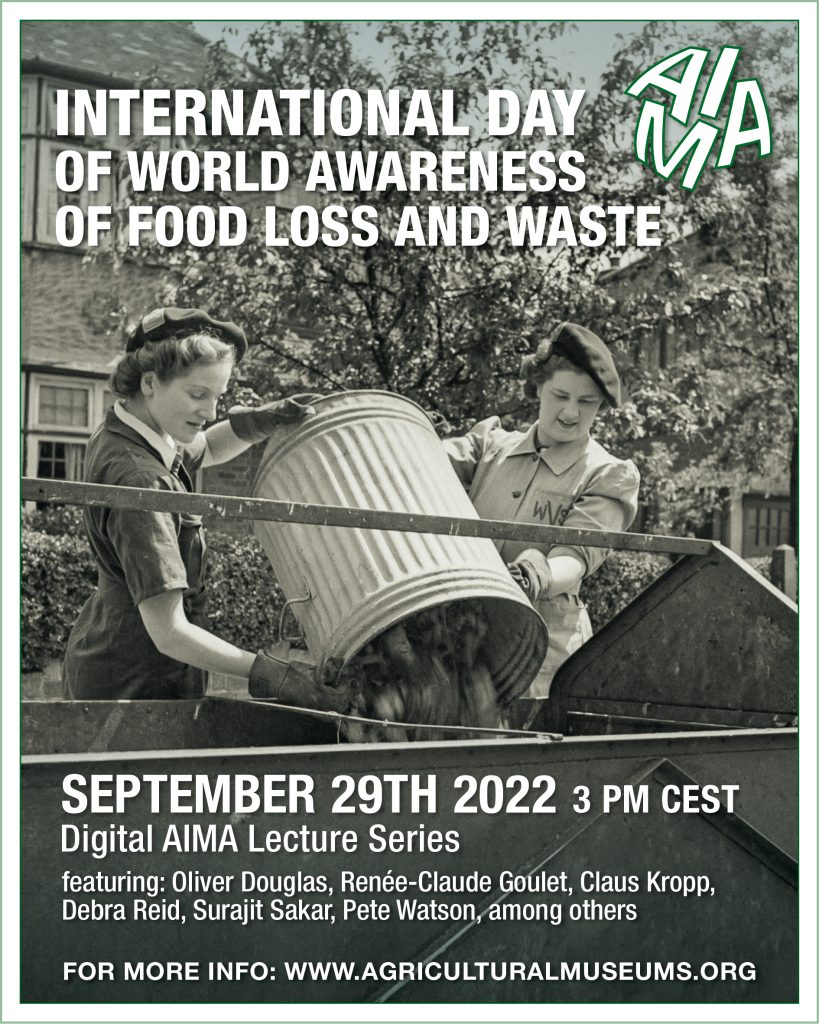 AIMA recognizes the International Day of World Awareness of Food Loss and Waste
The International Association of Agricultural Museums (AIMA) invites you to a one-hour program via ZOOM. Speakers will address museum collections, policies, protocol, and programming aimed at increasing awareness of the numerous costs of food loss and waste. To join the event, please register by September 23 by emailing aimalecturesreg [at] gmail.com and we will provide you with the Zoom-Link for our meeting.
Program
Welcome — Claus Kropp, AIMA President
Historical resources, green museum efforts, and food loss and waste — Debra A. Reid, Curator, Agriculture & Environment, The Henry Ford, Dearborn, Michigan, USA.
Community Action: Museum Programs and Public Responses
Surajit Sarkar, Delhi, India, will share practices in place to reduce food waste: reuse of rice from evening meal to morning breakfast; food redistribution; etc.
Renée-Claude Goulet, Science Advisor, Canada Agriculture and Food Museum, Ottawa, Ontario, Canada, will discuss how museums build public awareness to food loss/waste through mission-driven communications.
Claus Kropp, Experimentalarchäologisches Freilichtlabor Lauresham, Lorsch, Germany, will focus on museum operations and food loss/waste reduction (possible through programming, policies, and protocols relative to staff and catered food service).
Ollie Douglas, Curator, and Isabel Hughes, Associate Director, The Museum of English Rural Life (The MERL), Reading, UK, will share The MERL's approach to reducing food waste and engaging the public in food-related programming.
Pete Watson, Howell Living History Farm, Mercer County Park Commission, New Jersey, USA, will report on engaging communities in food production (case study of the August 2022 potato harvest) and food education through participation in the 40th anniversary of the food bank and soup kitchen in Trenton, New Jersey (24 September 2022).
Moderated Q&A