Virtual Conference 8-9 May 2021.
"Draft Animals in the Past, Present and Future" was piloted by AIMA President, Claus Kropp, now taking up the challenge of a world-wide effort to bring together draft animals users. The congress was virtual, and hosted by Lauresham Laboratory for Experimental Archaeology at the UNESCO World Heritage site of Kloster Lorsch in the Land of Hessen, Germany.
The two-day congress itself was organized into various sessions, including keynote speakers introducing the stakes involved in past, present and future, then the historical and archaeological perspectives. Other sessions concentrated on the special interests of agricultural and agriculture-related museums in the preservation of local breeds, actual farming production and their educational activities for adults and children. Special emphasis was placed on animal welfare and the transmission of skills, as well as on the role of draft animals today in economic development and environmental protection. A handsome roster of experts accepted the invitation to participate.
Claus Kropp and Lena Zoll (Eds.): Draft Animals in the Past, Present and Future, Staatliche Schlösser und Gärten Hessen, Heidelberg: Propylaeum, 2022. The Proceedings are available free online to download the full PDF version or access each article at https://books.ub.uni-heidelberg.de/propylaeum/catalog/book/1120?lang=en
Individual friends and institutional networking partners such as EXARC, ALHFAM, the EURHO, the SFLS, the ASHR, the Académie de l'Agriculture of France and the AFMA, among others, have been active in announcing for Claus. The latest word, in late February, gave us the news that over 100 participants have so far registered for the congress and archive from over 15 countries, including Germany, Austria, Romania, Belgium, the Netherlands, England, Scotland, Canada, France, the US, Italy, Australia, Luxembourg (although not all potential attendees identified their country affiliation).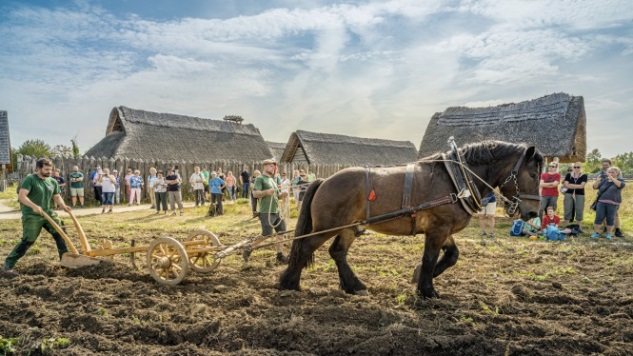 Lauren Muney of the ALHFAM played a special artistic role in the event promotion when Claus sent her a picture of working with their oxen at Lauresham, and Lauren replied with one of her specialty cut-outs to illustrate the online announcement which you can pick up in eight languages on YouTube [see below].


On top of all this artistic work, congress participant Paul Starkey, an expert on draft animals and transport worldwide, sent Claus a poster and detailed identification for his Year of the Ox POSTER that he is quite willing to share with AIMA members and friends, if it can help you in your own efforts to publicize your work in museums or living history farms. If so, just tell Claus or Cozette and we will give you Paul's contact information.
---