Jeannette Beranger joins us again for an article on her experiences in the United States in using animals as the star performers in audience contact.
For nearly 20 years, I was in charge of a Heritage breed farmyard exhibit within a facility that enjoyed over a million visitors a year. It never ceased to amaze me how the farmyard, with its universal appeal to young and old, is often overlooked as a unique opportunity for living history museums to touch visitors on a very personal level. From infancy, children are exposed to farm animals through stories, nursery rhymes, and picture books. This holds true for people from all walks of life and throughout the world.
The farmyard in turn has a built-in capacity to reach a wider audience than any other exhibit in an institution, since farm animals are a natural draw for visitors. When involving endangered breeds of livestock and poultry, they can be used as a vehicle to introduce visitors to the concept of how easy it is to lose important pieces of history and culture. There are many examples of breeds that helped to establish, build, and sustain the communities they were once found in. No matter what country your facility is located in, early on there would have been breeds that had an important impact on your region and its history. To quote former Livestock Conservancy Director Don Bixby, "Like artwork, architecture, language, and other artifacts, rare breeds enlighten us about the needs, interests, skills, and values of the people who preceded us."
Many living history museums in America do incorporate animals in their interpretive programs and for this article I want to discuss two very innovative but different approaches that have resulted in tremendous success for both institutions.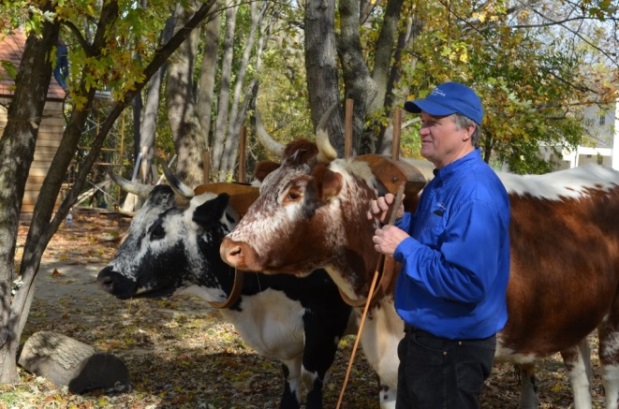 Conner Prairie Interactive History Park is located in Fishers, Indiana. The park includes an 1836 prairie town that incorporates farm animals as a means to engage their visitors in a meaningful way. Kevyn Miller is the Livestock Manager for the park and he credits the key to the success of their programs to their Board of Directors that have been open-minded to the potential benefits of programs with animals. The strategy has paid off and attendance for the park has increased every year since their April-October animal encounters program began in 2007. The program incorporates rare breeds such as English Longhorn cattle, Ossabaw Island hogs, Arapawa goats, Leicester Longwool sheep and Tunis sheep. Visitors have the opportunity to interact with the animals and their keepers who are always available to answer questions. In 2014, the park reached record-breaking attendance levels and currently attracts more than 340,000 visitors annually.
Conner Prairie has become an important steward to the conservation of the breeds they work with. They maintain one of only a few English Longhorn herds in the country and have a robust program for the other breeds they work with. These animals are an important component of their Animal Encounters Program that reaches out to local groups and individuals interested in learning more about the animals and how to work with them. A low-stress livestock handling class was developed with the area's Future Farmers of America (FFA) chapter. Out of that program a secondary Youth Agricultural Captain Program was created for class participants who excel in leadership and mentoring skills. This program is meant to be a more in-depth learning experience with hands-on opportunities to help the staff with the animal chores around the farm. Participants also receive interpretation training so they can interact with farm visitors effectively and teach about the animals and importance of livestock and poultry conservation.
Several paid "Prairie Pursuits" classes are offered during the time of year when the Animal Encounters Program is closed for the season. A popular class in "How to Keep a Chicken" is often well attended along with an occasional ox-driving class that gives individuals a rare opportunity to interact with the park's teams of oxen.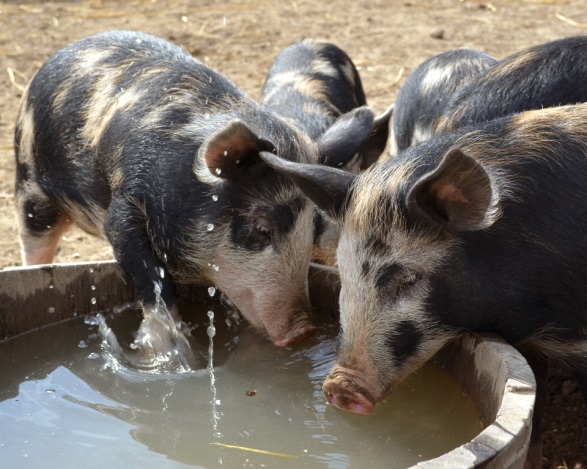 The park's herd of rugged Ossabaw Island hogs are a popular attraction. The pigs are allowed to roam in spacious fields and live in family groups as they would have on their native island. Aside from the interpretive opportunities, the pigs offer the park an income stream from meat production provided to a local butcher at the Smoking Goose Meatery. The park delivers pigs to a local abattoir. Noted butcher Chris Eley then buys and picks up the finished hogs that are then turned into a wide array of highly acclaimed charcuterie products for his shop. Some of these products are featured during the Connor Prairie's trendy "Prairie Plate" food vendor event that brings in further income for the park.
Sheep are also popular residents on the farm and shine during the park's Sheep to Blanket weekend. The event highlights shearing, spinning, and the herding of the sheep at the park. The sheep bring further income to the park by being sold as freezer lamb but those that are of breeding quality will be used to create starter flocks to put in the hands of stewards that will continue to propagate the breeds.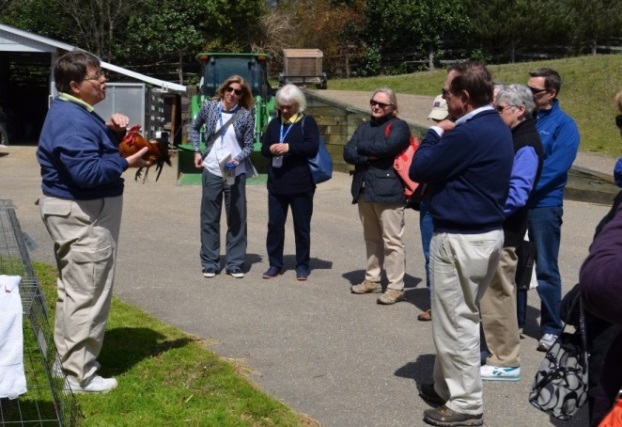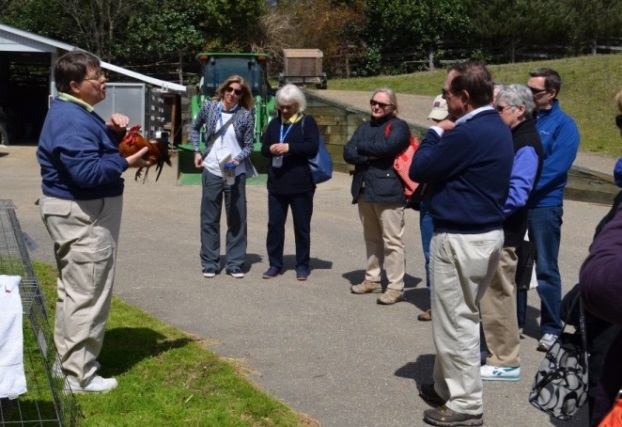 When it comes to innovation with animals, few rival Colonial Williamsburg's living history museum and historic district in Virginia. Animals have been a vital component to Williamsburg's programs for nearly 30 years and their services and products can be found throughout the property. Breeds were chosen to give the most authentic 18th-century experience possible for the visitors. Animals featured include Leicester Longwool sheep, Milking Shorthorn and Milking Devon cattle, Nankin Bantam and Dominique chickens, as well as Canadian horses.
---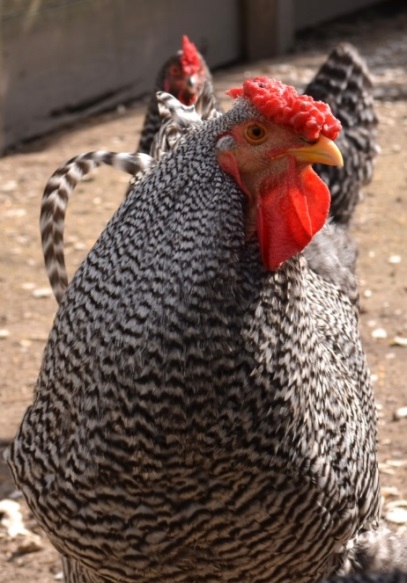 At Williamsburg, breeding-quality animals are sold to help start new populations for their endangered breeds. The others that are not slated to breed are used in many ways in their interpretive programs. Cattle, pigs, sheep, and poultry are butchered and the carcasses are used for cooking demonstrations in Williamsburg's kitchens. Some of the more creative and historically accurate uses of the animal products include turkey and goose feathers being used for quill pens, beef fat that is used for the production of pomades, boar bristles used by their shoemakers for stitching, plasterers using cow hair as binders, and pig bladders used to seal the tops of pickle jars. Cow and sheep hides are tanned and sold or used for display.
Williamsburg is nationally known for their stewardship of the critically endangered Leicester Longwool and they maintain genetically significant flocks on the property. This breed is noted for the lustrous quality of its wool. Their flocks are publically shorn with some of the wool being used for on-property demonstrations and the rest is commercially processed into yarn, roving(1), and quilt batts(2) which are sold in Williamsburg's gift shops.
Of course they have an ample supply of manure from all of the animals that is utilized to its greatest potential in Williamsburg's compost piles for the extensive gardens on the property.
Not all historic properties can afford to maintain large populations or multiple species, but there are many ways that even a small project can make a difference through the visitors you reach and educate. For those facilities that don't have a lot of room or have challenging environments to work with, there are many choices with specially adapted or smaller livestock and poultry breeds that can be the right fit for any situation while bringing the opportunity to create income streams and new life to a historic facility.
Jeannette Beranger, Research & Technical Programs Manager at The Livestock Conservancy,
Notes:
(1) Roving: a continuous strand of loosely twisted and drawn fibers, such as wool, flax, silk, or cotton, ready to be spun. (American Heritage® Dictionary of the English Language online, Fifth Edition. Copyright © 2011)
(2) Batt: pieces of fabric used for stuffing; batting (same source)
Resources:
An Introduction to Heritage Breeds, by D. Philip Sponenberg, Jeannette Beranger, and Alison Martin, Storey Publishing (2014)
The Livestock Conservancy – www.livestockconservancy.org
Colonial Williamsburg – www.history.org
Conner Prairie – www.connerprairie.org
Smoking Goose Meatery – www.smokinggoose.com