– from oxen to old swine breed.
Preparing the field for winter crops. A team of two Raetian Grey Oxen at the Lauresham Open Air Laboratory in Germany is ploughing one of the fields with a (re)constructed Early Medieval ard. In Lauresham various medieval field types (e.g. ridge and furrow) and systems (e.g. three-field crop rotation) are experimented with in order to get a better understanding of the agricultural practice of our forefathers. At the same time these experiments look for valuable resources for more sustainable farming in the 21st century.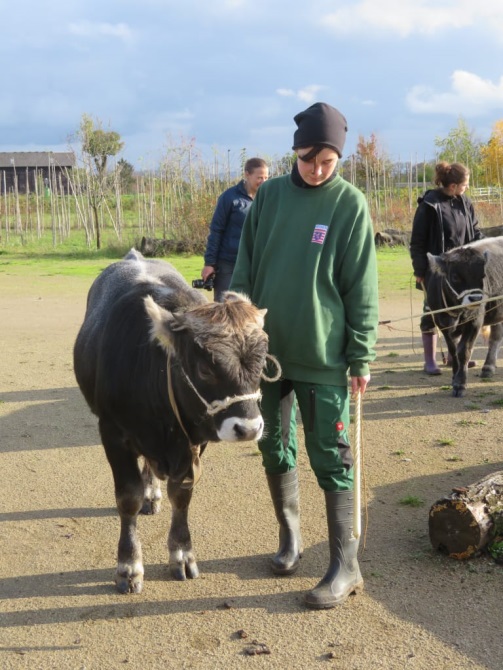 Draft oxen training. As part of their Voluntary Ecological Year (in German FÖJ) at the Lauresham Open Air Laboratory in Germany, every year four young adults learn how to train and work with draft oxen. Daily training and exercise in ploughing during harvesting season offers deep insights into one of the most important agricultural tasks until the beginning of the 20th century: working with draft cattle.
Düppeler Weideschweine braking a fallow at the Lauresham Open Air Laboratory in Germany. In 2019 at a meeting at the Archaeological Open Air Museum Oerlinghausen, three museums (Museumsdorf Düppel just outside Berlin, Lauresham Open Air Laboratory and Oerlinghausen) and one farmer joined forces in order to revive the breeding of the so called "Düppeler Weideschwein", a living (re)construction of the medieval domestic pig.
The breed is very robust and can be used for year-round grazing.
Author: Claus Kropp