Since the beginning of 2018, the Centre for Agrarian History (CAG) Leuven, Belgium, has been responsible for the management and public valorization of the 'Collection Bulskampveld', owned by the Flemish government. The collection counts more than 8500 artefacts and consists among other things of carts, wagons, agricultural tools and material for crafts such as wheelwright, blacksmith and woodworker. Most artefacts come originally from the province of West-Flanders (Belgium). You can find a large selection of objects at this website www.collectiebulskampveld.be, clicking on 'virtuele collectie' (virtual collection, for the moment, only in Dutch). Carts and wagons form one of the spearheads of the collection. In this short contribution we have the pleasure of presenting three of them.
Polder wagon
This wagon is typical for the Polder region of Flanders near the coast. They were used at big farms to collect the harvest. The polder wagon had, like all such vehicles, four wheels, of which the two smaller – the front wheels – could pivot. The container was not straight, but had a graceful, curved shape: the side panels were lower in the middle than the ones in the front and at the back. The boards were sometimes decorated. This wagon was made between ca. 1860 and 1930.
Polder wagon, Collection Bulskampveld, n° 51
Three-wheeled cart
The Flemish three-wheeled cart was present on every farm where draft animals were kept. The container of this type of cart could tilt without unharnessing the horse. The big advantage of the three-wheeled cart was the pivoting front wheel with small turning circle which facilitated maneuvering. It was a rather heavy construction, and could therefore carry relatively large loads, but was also expensive to purchase. Since the cart was used for various purposes, it was often the only vehicle on the farm. This particular three-wheeled cart was constructed between 1860 and 1930.
Three-wheeled cart, Collection Bulskampveld, n° 75
Dog cart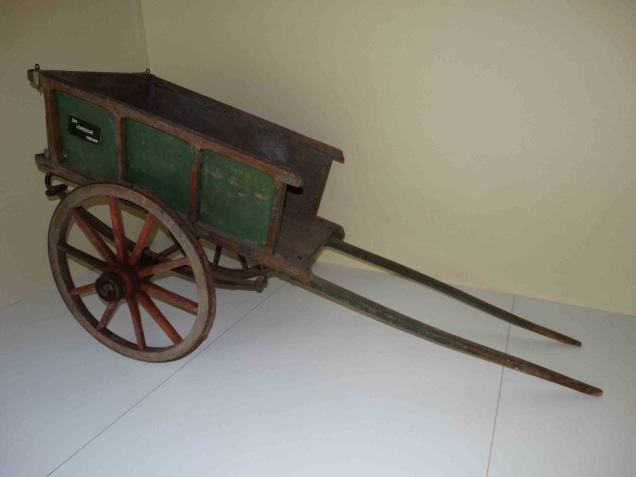 Until the Second World War, the dog cart was a widely distributed and widely used vehicle, especially in the countryside. The construction differed from cart maker to cart maker, but was in essence always similar. With the dog cart the farmer went to the market, to the mill, to the dairy, to the city… From the 1920s onwards, more and more restrictive welfare measures were taken by the government to protect the welfare of the dog. In 1975, finally, the use of dogs for draft power was permanently prohibited by Belgian law, although at that time, the dog cart was no longer in use. This dog cart is dated to between 1880 and 1940.
Dog cart, Collection Bulskampveld, n° 344
---
Brecht Demasure, collectiebeheerder Collectie Bulskampveld, www.collectiebulskampveld.be, Centrum Agrarische Geschiedenis (CAG), Leuven, Belgium