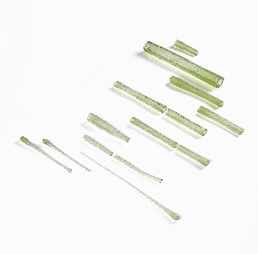 The Creeping and The Wise by Anne Vibeke Mou. (Photo by John McKenzie)
In 2018 UK-based artist Anne Vibeke Mou embarked upon a research project exploring the history of the North of Scotland's kelp industry (kelp ash was once used as an ingredient for glass making), as part of her ongoing work A Botany of Glass. Mou's practice importantly looks to explore obsolete artistic and production traditions, and the role of plants and algae had in early, pre-industrial glass making, to develop her own glass using materials from specific sites, to create artworks that reference the intimate relationship between the natural environment that is found in both our industry and mythology. During her research in Scotland, Mou was captured by the folklore of Scotland and how some of the stories of metamorphosis chimed with the research being undertaken by scientists from the National Museum of Scotland on the fossil remains of tetrapodomorpha or fishapods, the first creatures to move from the sea to the land. Spending a period of time with Dr Stig Walsh, Senior Curator of Vertebrate Palaeobiology at National Museums Scotland to discuss his research into this area and visit the fossil collections at the National Museums Collection Centre. The result of the knowledge exchange between Mou and Walsh is documented in The Creeping and The Wise – How the metamorphosis of animals in Scottish folklore and fossils became a recipe for glass by Anne Vibeke Mou, which was first published by National Museums Scotland.
To read the full article visit:
To learn more about Anne Vibeke Mou and her ongoing 'A Botany of Glass' project visit this website.
And to read more about the research that was undertaken by National Museums Scotland that inspired Mou's research visit this website.